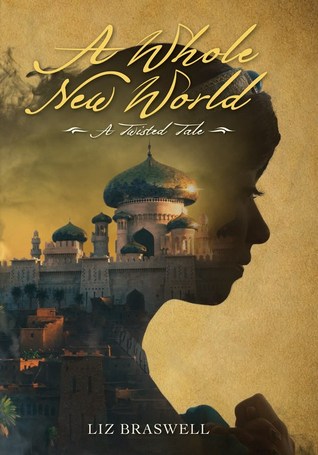 title: a whole new word: a twisted tale
author: liz brazwell
book birthday: september 1, 2015
blurb from goodreads:
Welcome to a new YA series that reimagines classic Disney stories in surprising new ways. Each book asks the question: What if one key moment from a familiar Disney film was changed? This dark and daring version of Aladdin twists the original story with the question: What if Jafar was the first one to summon the Genie?

When Jafar steals the Genie's lamp, he uses his first two wishes to become sultan and the most powerful sorcerer in the world. Agrabah lives in fear, waiting for his third and final wish.To stop the power-mad ruler, Aladdin and the deposed Princess Jasmine must unite the people of Agrabah in rebellion. But soon their fight for freedom threatens to tear the kingdom apart in a costly civil war.

What happens next? A Street Rat becomes a leader. A princess becomes a revolutionary. And readers will never look at the story of Aladdin in the same way again.
Finally a cover and there are mixed feelings.
first thought: It's beautiful
second thought: this is too Disney. Now I'm scared.
I was so looking forward to this book, mostly because it says "a twisted tale" in the title. BUT now seeing the cover, I'm having some doubts. I'm hoping this will be the dark twisted version of Disney I've been longing for and making up in my head.