It's been a while since I've done one of these posts. I've started getting books from the library again, so I thought I'd start this up again. For those who don't know, I used to do these posts once a month about books that I would get from the library because I couldn't get to review them all but I liked to share what I was reading with everyone. With my new resolution to read and blog more frequently, I thought I would start up these posts again.
Blurbs and links are from goodreads.com
Queen of Hearts by Colleen Oakes
As Princess of Wonderland Palace and the future Queen of Hearts, Dinah's days are an endless monotony of tea, tarts, and a stream of vicious humiliations at the hands of her father, the King of Hearts. The only highlight of her days is visiting Wardley, her childhood best friend, the future Knave of Hearts — and the love of her life.
When an enchanting stranger arrives at the Palace, Dinah watches as everything she's ever wanted threatens to crumble. As her coronation date approaches, a series of suspicious and bloody events suggests that something sinister stirs in the whimsical halls of Wonderland. It's up to Dinah to unravel the mysteries that lurk both inside and under the Palace before she loses her own head to a clever and faceless foe.
Part epic fantasy, part twisted fairy tale, this dazzling saga will have readers shivering as Dinahs furious nature sweeps Wonderland up in the maelstrom of her wrath.
Familiar characters such as Cheshire, the White Rabbit, and the Mad Hatter make their appearance, enchanting readers with this new, dark take on Alice's Adventures in Wonderland.
"Aerity…" Her father paused as if the words he was forming pained him. "I must ask you to sacrifice the promise of love for the sake of our kingdom."

She could only stare back, frozen.
When a strange beast terrorizes the kingdom of Lochlanach, fear stirs revolt. In an act of desperation, a proclamation is sent to all of Eurona—kill the creature and win the ultimate prize: the daughter of King Lochson's hand in marriage.
Princess Aerity knows her duty to the kingdom but cannot bear the idea of marrying a stranger... until a brooding local hunter, Paxton Seabolt, catches her attention. There's no denying the unspoken lure between them... or his mysterious resentment.
Paxton is not the marrying type. Nor does he care much for spoiled royals and their arcane laws. He's determined to keep his focus on the task at hand—ridding the kingdom of the beast—but the princess continues to surprise him, and the perilous secrets he's buried begin to surface.
Inspired by the Grimm Brothers' tale "The Singing Bone," New York Times bestselling author Wendy Higgins delivers a dark fantasy filled with rugged hunters, romantic tension, and a princess willing to risk all to save her kingdom.
Here's one that I'm on hold for:
Crimson Bound by Rosamund Hodge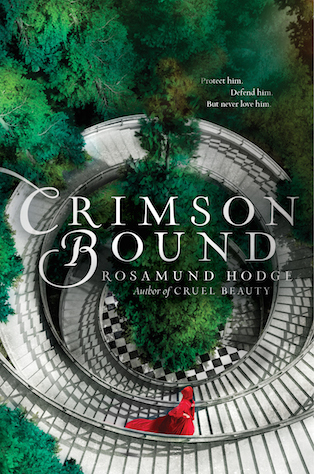 When Rachelle was fifteen she was good—apprenticed to her aunt and in training to protect her village from dark magic. But she was also reckless— straying from the forest path in search of a way to free her world from the threat of eternal darkness. After an illicit meeting goes dreadfully wrong, Rachelle is forced to make a terrible choice that binds her to the very evil she had hoped to defeat.
Three years later, Rachelle has given her life to serving the realm, fighting deadly creatures in an effort to atone. When the king orders her to guard his son Armand—the man she hates most—Rachelle forces Armand to help her find the legendary sword that might save their world. As the two become unexpected allies, they uncover far-reaching conspiracies, hidden magic, and a love that may be their undoing. In a palace built on unbelievable wealth and dangerous secrets, can Rachelle discover the truth and stop the fall of endless night?
Inspired by the classic fairy tale Little Red Riding Hood, Crimson Bound is an exhilarating tale of darkness, love, and redemption.
(This is a standalone novel, not part of the Cruel Beauty Universe.)